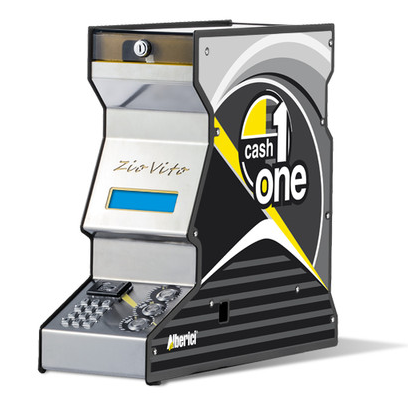 Cash One Zio Vito is a token dispensing unit that can be controlled by four different Operators, each enabled by means of an RFID electronic identification key.
Solid and compact distributor, it is equipped with an integrated control console placed in a comfortable and ergonomic position.
The access to the configuration menu is made through the RFID Master electronic key, with automatic download of the general accounting data and the four individual accounts.
2×16 LCD display for the Operator and mini LCD display on the dispensing side
Self-configuring electronic board.
CcTalk protocol, which guarantees high security standards
Sliding plastic cover for massive introduction of coins, with the possibility of locking / unlocking with a key
Numeric keypad with three anti-vandal RGB buttons and ACS key reader for the Master key for programming and downloading data, and for individual cashier enabling keys
HopperOne S11 single-coin chain hopper. Capacity of approximately 2.400 tokens
Quick and easy disassembly to facilitate cleaning and maintenance
Dispensing is settable by number of tokens or by amount in Euro (with automatic bonus allocation in both cases)
Customizable graphics on request
Dimensions: cm 16 x 45 x 50 (h)