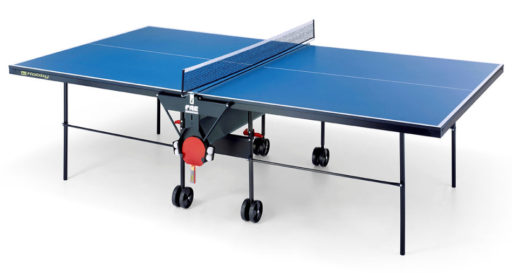 Technical specifications
AVAILABLE COLORS: green / blue
PACKING MEASURES: cm 144 x 162 x 10.5
Suitable for internal use
Compliant with the European regulation concerning international safety rules EN 14468-1
Top in 19mm wood agglomerate. Metal frame 36mm
Metal tubular structure Ø 25mm, coated with scratch-resistant paint
Safe closing system
Equipped with 4 Ø 125mm wheels, 2 of which can be maneuvered
Requires assembly
On both sides there are rackets and balls
Ping Pong table ideal for indoor use.
Recommended for home use and also for individual training, as it can be used in the playback position, with half-shelf raised.
Table equipped with a particularly robust frame, made of 25mm metal tubing, positioned under a resistant game table with a thickness of 19mm and made in two colors, green or blue.
It is equipped with 4 wheels with a diameter of 125mm, two of which can be maneuvered to allow the table to be moved, even on uneven floors.
Particular attention is paid to safety; the table is in fact equipped with a simple and automatic closing system, which prevents overturning when the table is in a closed or semi-open position; in addition, a safety bar prevents you from positioning or climbing (especially for children) between the two game shelves. The net and the net-tensioner can remain in the playback position, or when the table is closed, thus contributing to increase the stability of the table.
Hobby ping-pong table is also supplied with a comfortable racket and ball holder positioned on both sides.