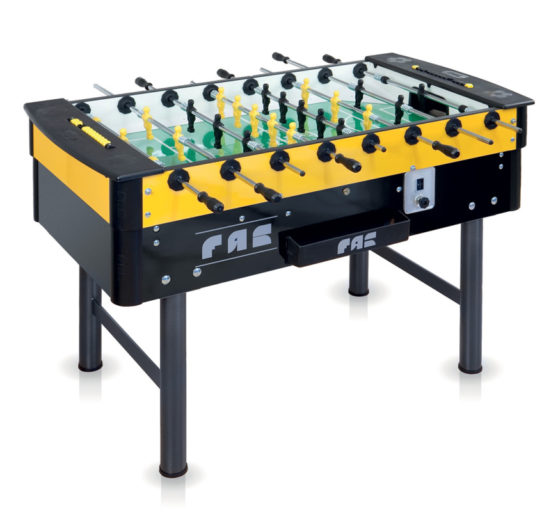 Since it was designed and released on the market in 1978, MUNDIAL table football continues to be appreciated both in competitions and by the most demanding fans.
The structure is made of sturdy 27mm thick multilayer, covered in 1,2 mm plastic laminate; over time, the device has undergone some restyling, in order to make it more in line with our times: angles and doors in moplen, hand guards in indestructible polyurethane, legs in scratch-resistant painted steel and total safety closing system to protect the incomes of the games.
The internal ball sliding mechanism, accessible by conveniently opening the cabinet, is made up of individually replaceable parts.
The structure is also equipped with a convenient metal support useful for keeping the cover open for repairs or for various inspections inside.
Available in a wide range of colors, it can also be used with telescopic rods for greater player safety and can be equipped with ball bearings, although the exceptional smoothness of the rods and the speed of the game does not normally require them.
It has been used successfully in the "Coca Cola" and "Carlsberg" advertising campaigns.
Professional playing surface: cm 114.5 x 70