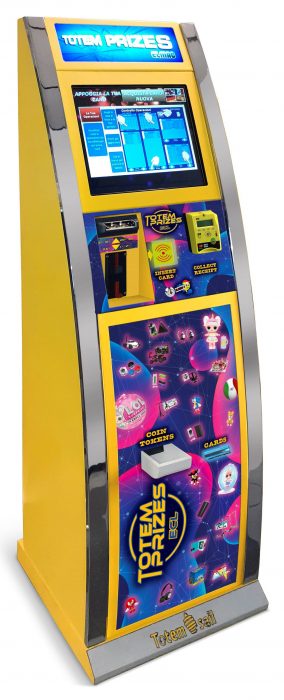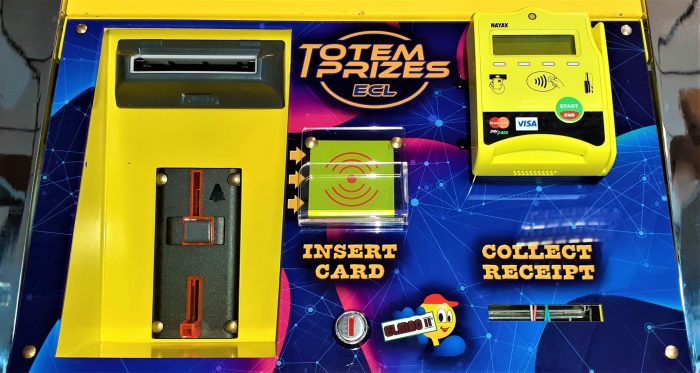 It is an indispensable self-service appliance for medium and large Arcades (to be installed in proportional quantities).
The Totem ECL assists the cashier in the following operations:
Distribution of cards pre-inserted in the system, for the amount set;
Top up the cards for the amount desired by the customer (coins, banknotes or electronic payment can be used);
Print the receipt of the operation carried out;
Choice and booking of prizes based on the points earned;
Display of credits and points accumulated in the cards;
Dispensing tokens or coins for games that only work with these tools (optional);
Loading into the system of the e-tickets won and stored in the cards (ticketless mode);
Registration, if desired, of customer data in the system, through the touch-screen keyboard.
To obtain a card from the Totem ECL, proceed as follows:
Enter the minimum currency to get the card (depending on the manager's choice, it can be, for example, 5 or 10 euros);
The card is collected and inserted in the transparent RFID case for its registration in the Management System.
The introduced currency is automatically validated, while the printer releases the receipt with the inserted currency (option that can be enabled or disabled from the menu).
At the end of the operation, take the card, ready to be used.
The distribution of any tokens and coins, which can be used on particular games that require only such activation means, takes place through a hopper inside the Totem ECL (optional).
The Totem, however, is not a classic money/token changer, because it dispenses them only through the use of the currency contained in it. Therefore, banknotes, coins or electronic payment instruments must be used to load the card and then, through it, obtain the desired tokens.
The Totem ECL includes the following main parts:
TOTEM PRIZES cabinet
17" touch-screen monitor
Mini PC I5 Windows 10
Card dispenser
Token/coin dispensing hopper (optional)
Custom TPTCM60III printer
POS terminal (Ingenico, Nayax, PAX)
Banknote reader
Electronic coin-mech
RFID card reader/writer
Power supply
Amplified audio speakers
SM12-7 board, with software and hardware developed by Elmac, to manage the coin mechanism, banknote reader, hopper, card dispenser and printer.
Dimensions: cm 52 x 47 x 163 (h)