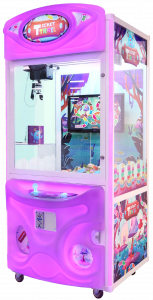 Ticket Trail is an electromechanical Ticket Redemption of skill.
The cabinet has the same structure as modern cranes, but its operation allows the victory of paper tickets only.
The player uses the coin or token to get the credit; using the joystick and this button on the console to control a special gripper, he must try to collect the greatest number of "rolls" and transport them inside the prize compartment.